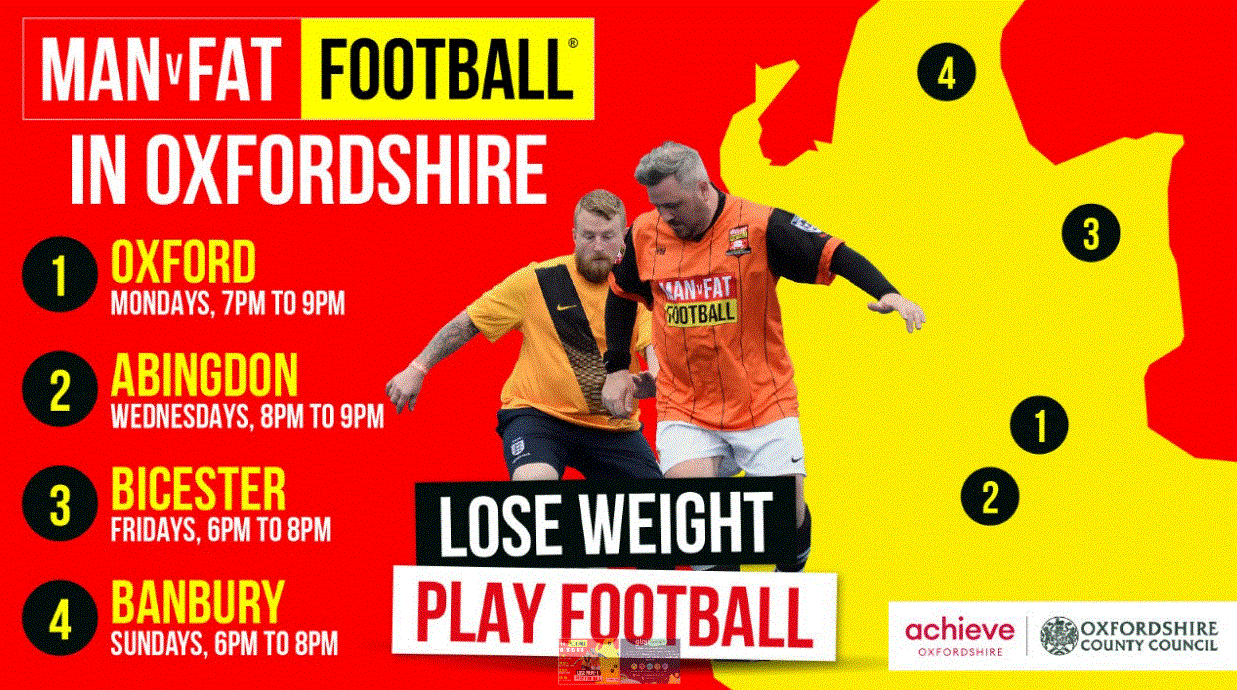 25th Jul
Man v Fat Football Sessions
MAN v FAT Football is for men with a BMI of 27.50 or over. Over 90% of players lose weight and get fitter, why not join them from just £28.50 a month!
For more information on weight loss for men visit our Weight Management page.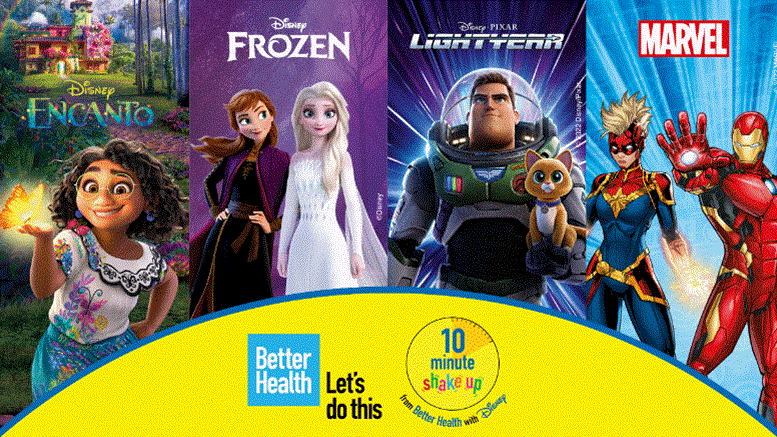 25th Jul
10 Minute Shake Up 2022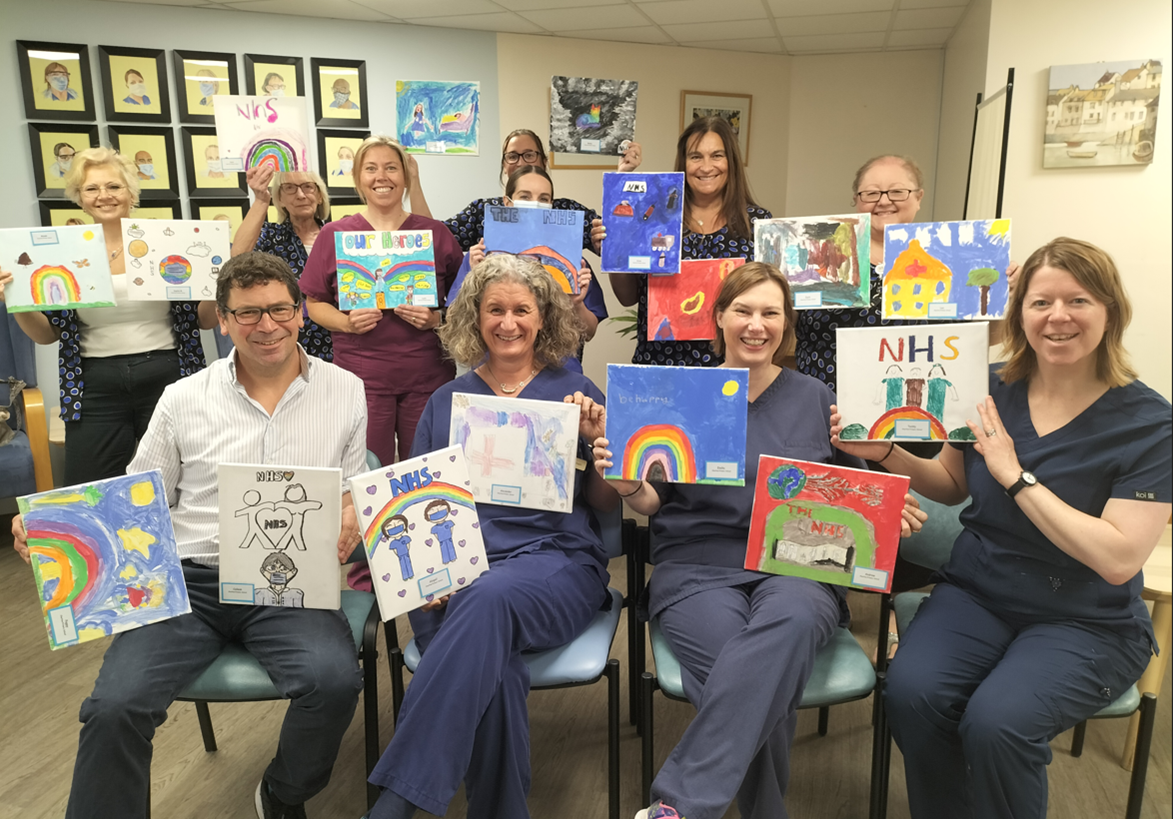 4th Jul
Huge Thanks to Charlton Primary School
A big THANK YOU to the children of Charlton Primary School who have taken part in our first ever Wantage Health Centre School Art Collaboration! All the team at Newbury Street Practice have enjoyed these brilliant colourful pictures being on the walls of the practice for the last year. Now it is time to give them back to the children and work with another local school for the second year of this innovative project.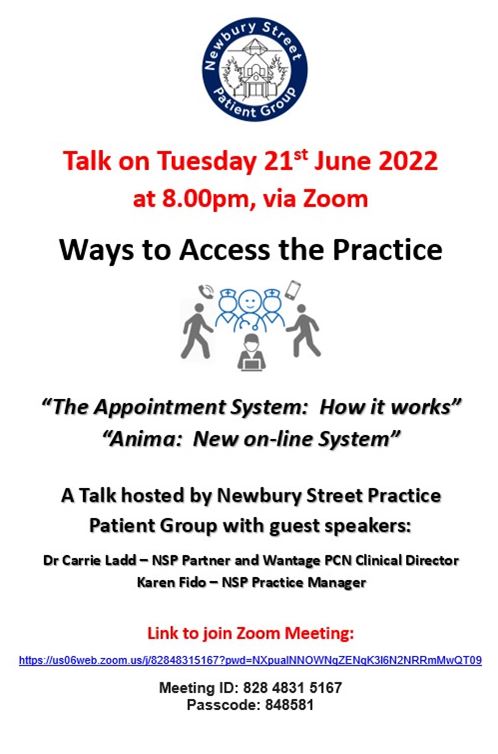 14th Jun
PPG Talk - Ways to Access the Practice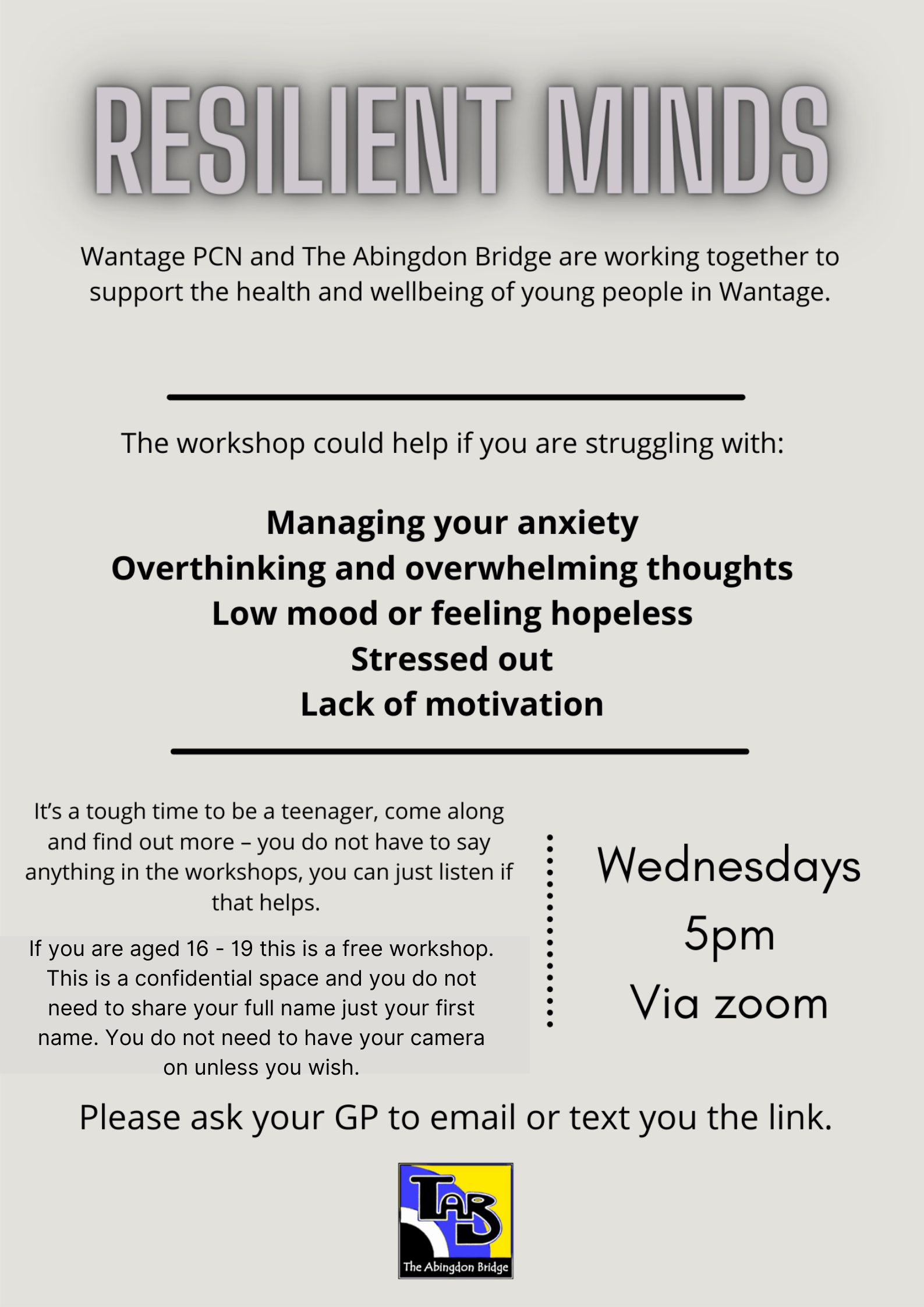 21st Mar
Resilient Minds Workshop
If you are 16-19 years old and feel like you need a little extra help, why not ask your GP to send you a link to the zoom meeting. This is a free workshop between Abingdon Bridge and your GP surgery. You can be as involved as your want, whatever you are comfortable with.
22nd Feb
*** Covid Safety***
Following the government announcement on 21/02/22, we have received advice from NHS England on 23/02/2022, which require current infection control guidance to be maintained in surgeries.
Please ensure that you:
Wear your mask in the surgery
Keep your distance from others when in the surgery
Arrive no more than 5 minutes before your appointment time
Avoid attending for routine care when you have Covid
Tell us if you have Covid symptoms or are Covid positive when booking an appointment
This way we can keep all patients safe – including those who cannot be vaccinated, or those whose immune systems may be compromised or weak.
Thank You
8th Feb
Grove Fields Park Run
You are invited to join our local parkrun which has just started in the fields behind the practice, it's EVERY Saturday morning at 9am and is for anyone who wants to walk or run 5km. It's always really good fun, there's often a coffee van there, everyone cheers you on and you treat it as your personal challenge.
There were 185 participants yesterday and now is a really great time to start going as there are loads of people there who are just starting out with it.
You need to sign up for free beforehand and print out your barcode which gets scanned at the finish line. You then get emailed your finish time so you know what your target is for next week.
https://www.parkrun.org.uk/grovefields/aboutus/
[https://images.parkrun.com/parkrun-marketing/512x288/48119212327.jpg]<https://www.parkrun.org.uk/grovefields/aboutus/>
about us | Grove Fields parkrun<https://www.parkrun.org.uk/grovefields/aboutus/>
About Us.
Grove Fields parkrun is a FREE weekly 5km event for participants of all standards, which takes place every Saturday at 9:00am in Grove Fields, Mably Way, Wantage, OX12 9BN.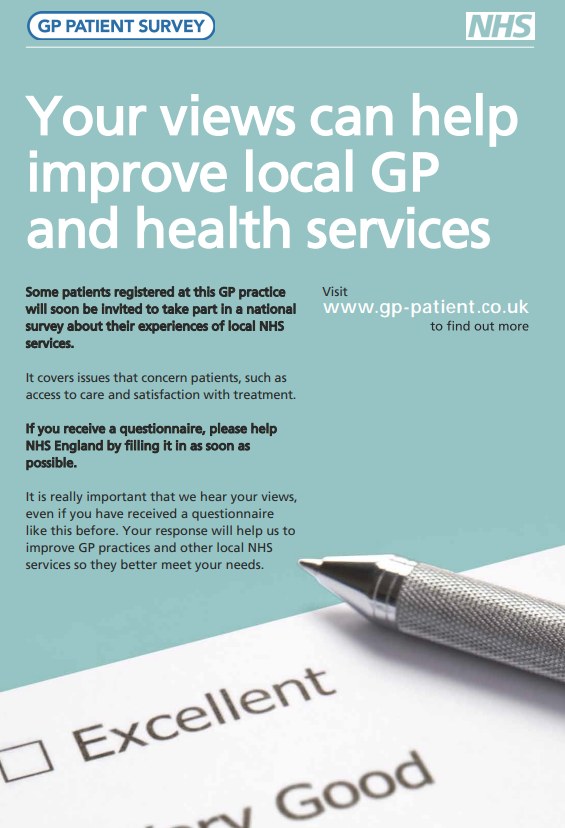 3rd Feb
Annual GP Patient Survey
An annual national survey is being held to help gauge how people feel about their GP practice.
The GP Patient Survey is an independent survey run by Ipsos MORI on behalf of NHS England. The survey is sent out to more than two million people, randomly selected, from across England between now and March.
The survey is designed to give patients the opportunity to feed back about their experiences of their GP practice. It includes questions about a range of issues, such as how easy or hard it is to make an appointment at your practice, satisfaction with opening hours and the quality of care received from your GP and practice nurses, amongst other things.
The survey will help the NHS to improve GP practices and other local NHS services so they better meet your needs.
If you have received a survey in the post, please click here for further guidance or to complete the survey online.
8th Sep 2021
Wantage Heath Centre - Refurbishment
We are delighted to announce that the business case for a much-anticipated extension and refurbishment at Wantage Health Centre has had funding approved by Oxfordshire Clinical Commissioning Group.
This exciting project is still subject to planning approval by the council, but could begin as early as January 2022. It will provide us with nine extra consulting and treatment rooms so we can offer more services to our growing numbers of patients. We will also have a joint larger waiting and reception area in the centre of the building for both practices, new patient facilities and new pharmacy and optician units with independent access.
We will update you as soon as we have more information, but in the meantime we thank you for your continued support and look forward to a bright future at Wantage Health Centre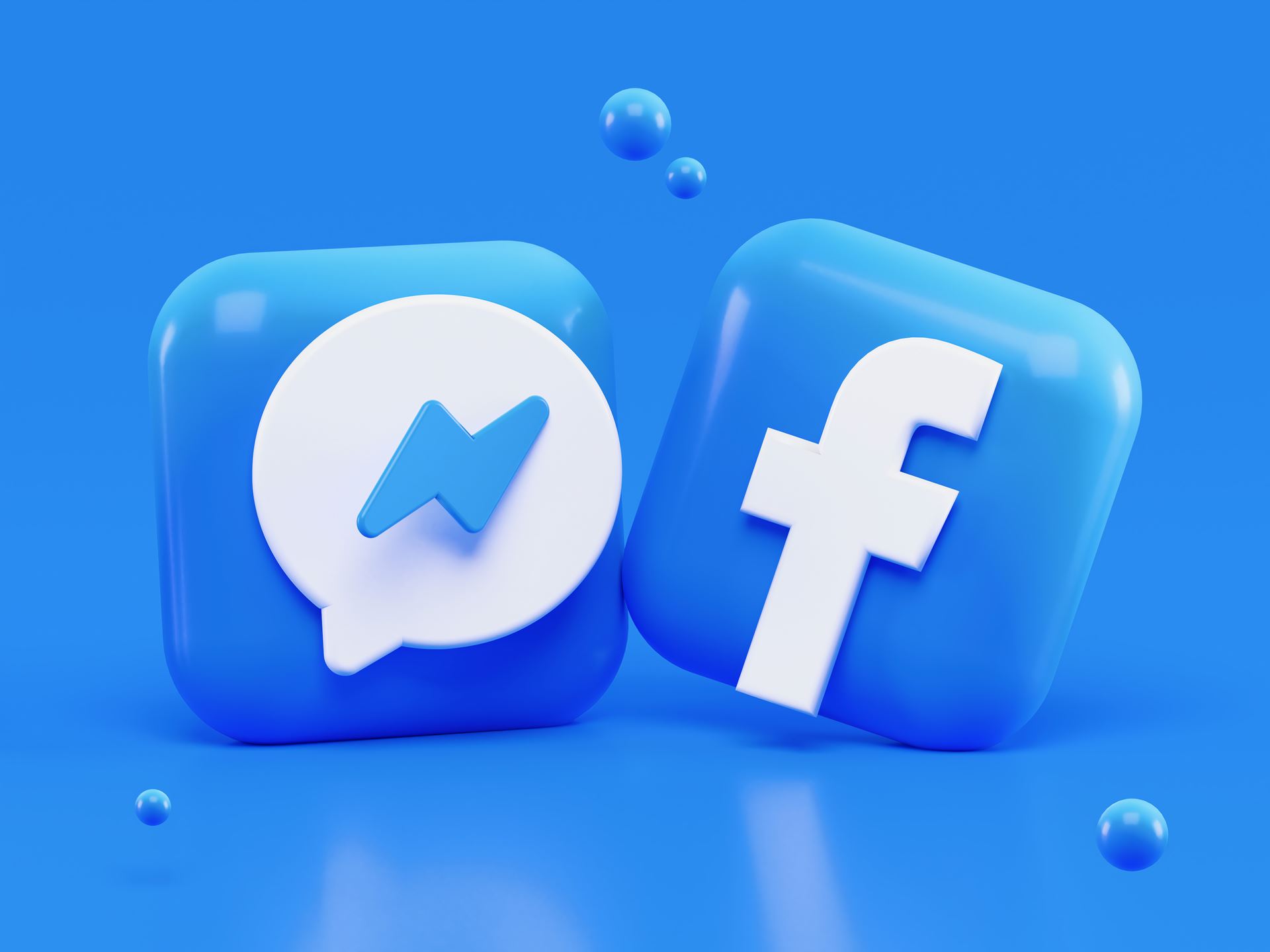 15th Jul 2021
Follow us on Facebook