Breaking News
It was with great sadness that I learnt of the death of Q Livingstone last month. Though I never had the pleasure of working with him, he was an enormous influence on Newbury Street Practice where he was Senior Partner for many years. His colleagues at the practice had enormous respect for him and his patients still speak of him with great affection. He was a skilled GP who also worked in hospital as an Associate Specialist in Breast Surgery. He came from a different era of General Practice, one which was truly cradle to grave medicine. He delivered babies, cared for them through their lives and in turn delivered their babies. He worked tirelessly and endlessly for his patients in an era where doctors (and their families) devoted their lives to the profession.
Outside of medicine, Q was a keen golfer and fisherman, skills which I understand he has passed on to his 2 sons Alisdair and Andrew. I knew him as a patient and a friend. Always an impressive character but a kind one too. It would have been easy to be intimidated as a young inexperienced GP by a man with such a fine reputation, but his manner meant this was never the case. I was proud that he chose to be my patient and I will miss him now that he has gone.
The best wishes of everybody at the practice go to Pauline, Alisdair and Andrew.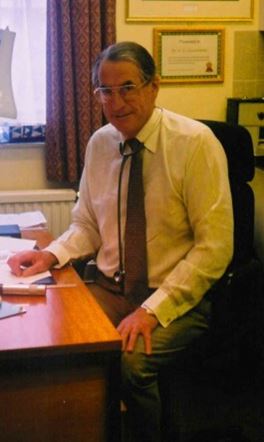 Welcome to Newbury Street Practice